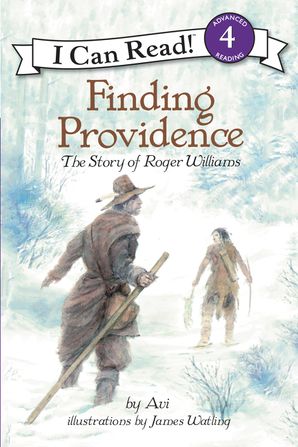 Read an excerpt
Finding Providence
By Avi, Illustrated by James Watling
Description
The year is 1635, and Mary Williams and her family live in the Massachusetts Bay Colony. Her father, Roger, is on trial for preaching new ideas about freedom. When found guilty, he flees into the cold, telling Mary that she must trust in God's providence to see him to safety.
Roger's only hope of survival lies with the Narragansett Indians. Will Mary ever see her father again?
Contributors
Avi
Avi is the award-winning author of more than eighty-two books for young readers, ranging from animal fantasy to gripping historical fiction, picture books to young adult novels. Crispin: The Cross of Lead won the Newbery Medal, and The True Confessions of Charlotte Doyle and Nothing But the Truth were awarded Newbery Honors. He is also the author of the popular Poppy series. Avi lives in Denver, Colorado. Visit him online at www.avi-writer.com.
Illustrated by James Watling
Details
Imprint: HarperCollins
Format: Paperback
On Sale: 08/02/1997
ISBN: 9780064442169
ISBN10: 0064442160
Pages: 48
Trimsize: 9.000 x 6.000 in
Subcategory:
JUVENILE FICTION / Readers / Intermediate
JUVENILE FICTION / Historical / General
JUVENILE FICTION / Historical / United States / Colonial & Revolutionary Periods
More Great I Can Read Level 4 BOOKS