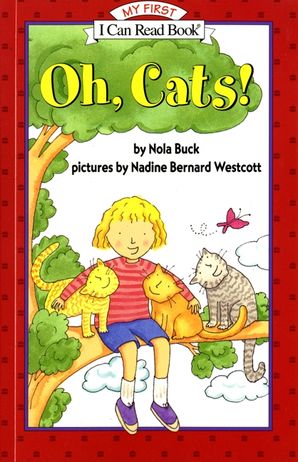 Read an excerpt
Oh, Cats!
By Nola Buck, Illustrated by Nadine Bernard Westcott
Description
When a young girl spies three cats in her yard, she hopes they will be her playmates! But these frolicking felines have other ideas for fun. Will they ever be her friends?
Illustrated with bright, fresh pictures by Nadine Bernard Westcott, Nola Buck's simple text is perfect for emergent readers and cat lovers alike.
Contributors
Nola Buck
Nola Buck (the pen name of Laura Godwin) is the author of many well-loved children's books, including Christmas in the Manger. With Ann M. Martin she also coauthored The Doll People, The Runaway Dolls, and The Meanest Doll in the World. She now lives in New York City but grew up in Alberta, Canada, and has fond Christmas Eve memories of watching Eeyore, the family donkey, play a part in the live Christmas pageant in her hometown.
Illustrated by Nadine Bernard Westcott
Details
Imprint: HarperCollins
Format: Paperback
On Sale: 01/01/1900
ISBN: 9780064442404
ISBN10: 0064442403
Pages: 32
Trimsize: 8.500 x 5.500 in
Subcategory:
JUVENILE FICTION / Readers / Beginner
JUVENILE FICTION / Animals / Cats
JUVENILE FICTION / Humorous Stories
More Great My First I Can Read BOOKS