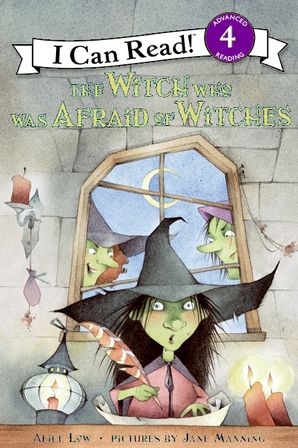 Read an excerpt
The Witch Who Was Afraid of Witches
By Alice Low, Illustrated by Jane Manning
Description
A bewitching tale for beginning readers, the perfect early chapter book story for Halloween!
Wendy is a little witch who is afraid of her mean, bossy witch sisters—until one special Halloween night when she makes a magical discovery: Wendy's sisters can fly fast, cackle loudly, and cast spells, but Wendy can fly even faster. Can she find a way to out-witch her sisters?
In this I Can Read Level 4 paperback—complete with full-color art and short chapters—Alice Low has adapted her popular story specifically for readers bridging to chapter books.
Contributors
Alice Low
Alice Low is the author of the New York Times best-seller The Witch Who Was Afraid of Witches, a book that has been adapted into a musical and a short animated film. She has also edited several anthologies and written many children's books and poems. Alice Low lives in Briarcliff Manor, New York.
Illustrated by Jane Manning
Details
Imprint: HarperCollins
Format: Paperback
On Sale: 08/08/2000
ISBN: 9780064442558
ISBN10: 0064442551
Pages: 48
Trimsize: 9.000 x 6.000 in
Subcategory:
JUVENILE FICTION / Readers / Chapter Books
JUVENILE FICTION / Family / Siblings
JUVENILE FICTION / Holidays & Celebrations / Halloween
More Great I Can Read Level 4 BOOKS