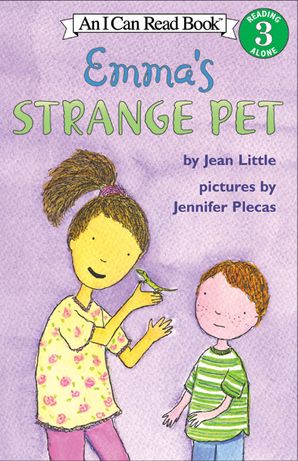 Read an excerpt
Emma's Strange Pet
By Jean Little, Illustrated by Jennifer Plecas
Description
From an award-winning team comes a lively and heartwarming I Can Read book about a family's first pet.
Pet wanted! Max wants a furry pet. Emma wants a pet too, but she's allergic to animals with fur. When Emma finds the perfect animal, will Max like his sister's strange pet?
Emma's Strange Pet is a Level 3 I Can Read Book, which means it's perfect for independent reading. Kids will love reading this high-interest story about Emma and Max's fun with their new pet!
Contributors
Jean Little
Jean Little is the author of more than twenty-five books for children. In addition to Emma's Magic Winter, her first I Can Read Book, Ms. Little's works include the novels Lost and Found, Different Dragons, From Anna and Hey World, Here I Am, illustrated by Sue Truesdell. Jean Little has always been interested in adoption, and she had a first-hand experience with it when her sister adopted two children several years ago. The family has nine pets, the most recent addition being Henry Higgins, a talking African gray parrot. Although Jean Little was born with scarred corneas that severely impair her vision, she has always loved to read and to write. She writes with a voice-activated computer and travels widely with her Seeing Eye dog, Pippa. Ms. Little lives in Ontario, Canada.
Illustrated by Jennifer Plecas
Details
Imprint: HarperCollins
Format: Paperback
On Sale: 10/26/2004
ISBN: 9780064442596
ISBN10: 0064442594
Pages: 64
Trimsize: 8.500 x 5.500 in
Subcategory:
JUVENILE FICTION / Readers / Beginner
JUVENILE FICTION / Animals / Pets
JUVENILE FICTION / Family / Siblings
More Great I Can Read Level 3 BOOKS