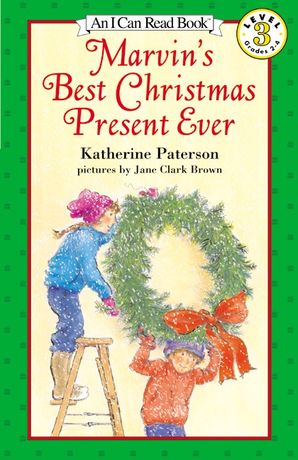 Read an excerpt
Marvin's Best Christmas Present Ever
By Katherine Paterson, Illustrated by Jane Clark Brown
Description
Christmas is coming...
... and Marvin is worried. His big sister, May, always makes great presents for their parents, and Marvin's are never as good. But this year, he is determined to make the best Christmas present ever -- one that will last forever.
Contributors
Katherine Paterson
Katherine Paterson is one of the world's most celebrated and beloved authors. Among her many awards are two Newberys and two National Book Awards, and she was recently named a "Living Legend" by the Library of Congress. She has been published in more than 22 languages in a variety of formats, from picture books to historical novels.
Illustrated by Jane Clark Brown
Details
Imprint: HarperCollins
Format: Paperback
On Sale: 10/01/2002
ISBN: 9780064442657
ISBN10: 0064442659
Pages: 48
Trimsize: 8.500 x 5.500 in
Subcategory:
JUVENILE FICTION / Readers / Beginner
JUVENILE FICTION / Family / General
JUVENILE FICTION / Holidays & Celebrations / Christmas & Advent
More Great I Can Read Level 3 BOOKS