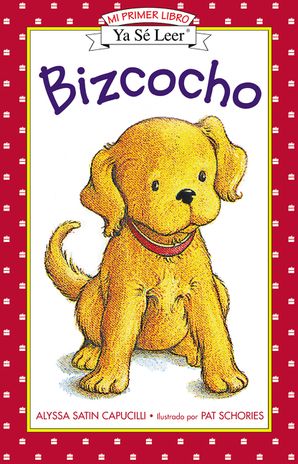 Bizcocho
By Alyssa Satin Capucilli, Illustrated by Pat Schories
Description
This high-quality Spanish-language book can be enjoyed by fluent Spanish speakers as well as those learning the language, whether at home or in a classroom.
Bizcocho, es hora de dormir! iGuau,guau!Es la hora de dormir de Bizcocho, pero este cachorrito color canela no quiere dormir porque cree que es la hora de jugar. Como no quiere dormir, pide: una galleta, un cuento, un abrazo, un beso. ¿Se dormirá Bizcocho al fin?Tanto los niños como los adultos reconocerán en esta sencilla y dulce historia de Alyssa Satin Capucilli, y con los encantadores dibujos de Pat Schories, el típico problema de la hora de dormir.La serie Ya Se Leer es reconocida como la primera colección para los lectores principiantes. Con estos libros los niños sentirán la satisfacción de leer por si solos. La serieMi Primer Libro Ya Sé Leercontiene historias muy sencillas, escritas en un lenguaje fácil de comprender para el niño que comienza a leer.
Contributors
Alyssa Satin Capucilli
Alyssa Satin Capucilli is the author of the first story about Tulip and Rex, Tulip Loves Rex, as well as the bestselling Biscuit books and many other beloved children's books. She lives in a book-filled home in Hastings-on-Hudson, New York.
Illustrated by Pat Schories
Details
Imprint: HarperCollins Espanol
Format: Paperback
On Sale: 10/09/2001
ISBN: 9780064443104
ISBN10: 0064443108
Pages: 32
Trimsize: 8.500 x 5.500 in
Subcategory:
JUVENILE FICTION / Readers / Beginner
JUVENILE FICTION / Animals / Dogs
JUVENILE FICTION / Bedtime & Dreams
More Great Biscuit I CAN READ! BOOKS
More Great My First I Can Read BOOKS